Via Fundrazr: Please click here to DONATE TODAY
Since 1983, Red Salmon Arts, casa de Resistencia Books, has been part of the Austin, TX community. It was founded by Chicano poet and activist, raúlrsalinas and for the last 36 years has provided a space and safe haven for Latinx/Chicanx/Native American poets, students, organizers, community members, artists, families and more.
We have been in the midst of strategizing ways to thrive and not just survive since relocating to 4926 E Cesar Chavez St. in 2014. Without any warning, our landlord DOUBLED our rent from one lease to the next. When we appealed, the landlord instead requested almost another grand.
Sadly, our current location is no longer affordable and Red Salmon Arts is looking for a new home to call our own. We are determined to find one and while we are in transition, we are asking for financial support of any amount.
Throughout the years, we have been hit with many waves of gentrification. We have faith that we will get through this one as well, but only with your support.
We are seeking funds to-
Cover moving expenses
Put towards rent or purchase of a small property
Pay our small part-time staff which will be working daily to get Resistencia Books re-settled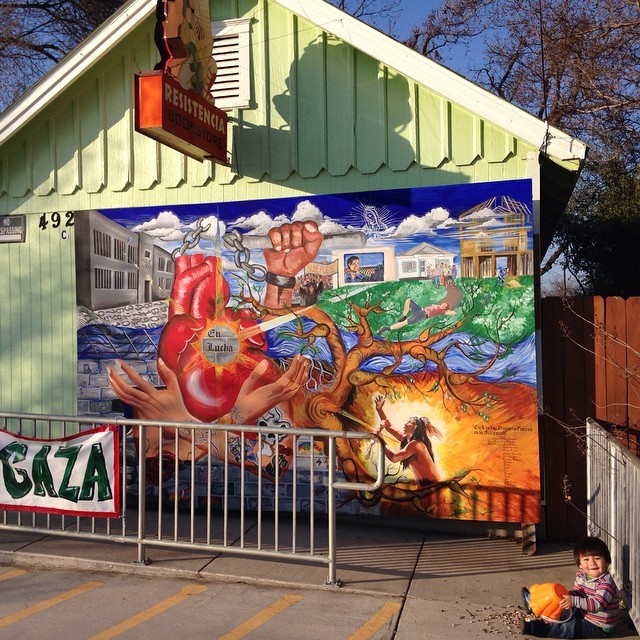 We all know that cultural arts spaces led by communities of color are vital institutions. At Red Salmon Arts, generations of youth have been educated on cultural history and community arts, thus becoming more civically engaged in our Austin community. Writers and visual artists have performed and exhibited their work to warm and validating audiences. Community members have organized and hosted their meetings in our space over the years at no cost.
Red Salmon Arts will continue to provide a safe space for artists and the Austin community. We just need a little bit of your help during this time. If you are a writer, an artist, a professor, a community member, an Austinite, or just an advocate for arts and the written word, please consider donating what you can.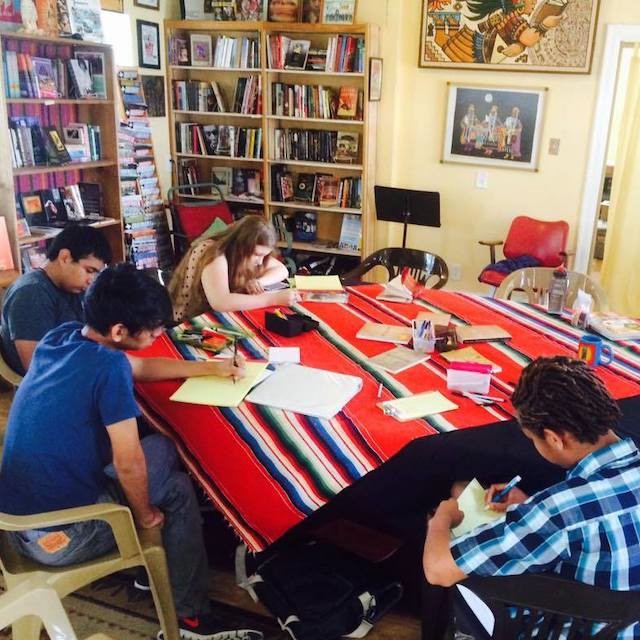 Why you should care:
In the past decade, Austin, Texas has transformed to become known as a beacon for the arts and a cultural city of growth and development. If Austin is to be a cultural haven and safe space for all artists, then the city and those who cherish it, must take care of its local residents and Austin based community organizations. As an autonomous organization, with a determined passion for uplifting marginalized communities, it is even more important to support this longtime existing space that calls Austin home.
About Red Salmon Arts, casa de Resistencia Books:
raúlrsalinas, a formerly incarcerated East Austin native turned poet imagined an avenue that would nurture working class Latinx/ Chicanx/ Native American, and other marginalized communities. Writing transformed him in prison and opened his eyes to the injustices that shaped his world, giving him the empowerment to free his mind. His mission was to pass this transformative creative experience to other youth and folks in need.
Resistencia Bookstore was born and raúl created many programs to aid his endeavors- Save Our Youth (SOY), Red Salmon Arts, Red Salmon Press.  All of these initiatives and more have been here for the community for free and donation based throughout all these years.
Over the years the organization has hosted countless events with authors, artists, activists and members of the community, music events, open-mic poetry nights, collaborations with local, statewide, and international organizations, and have gone around Austin to sell literature directly to the community. Some of the wonderful groups that have organized at our space are Lenguas Locas, a group of female and non binary writers, Kuwa Kubwa, a community school for youth, filmmaker and organizers of our summer film series Cine Resistencia and many more.
Our goal for the future:
Resistencia Bookstore transformed over the years to Red Salmon Arts, casa de Resistencia Books to encompass a broader range of cultural arts activism. It's something we hope will become an even greater resource to Latinx/Chicanx/Native American writers, artists and community members. Having a permanent home in Austin will help us make our foundation stronger so we can achieve this goal for years to come.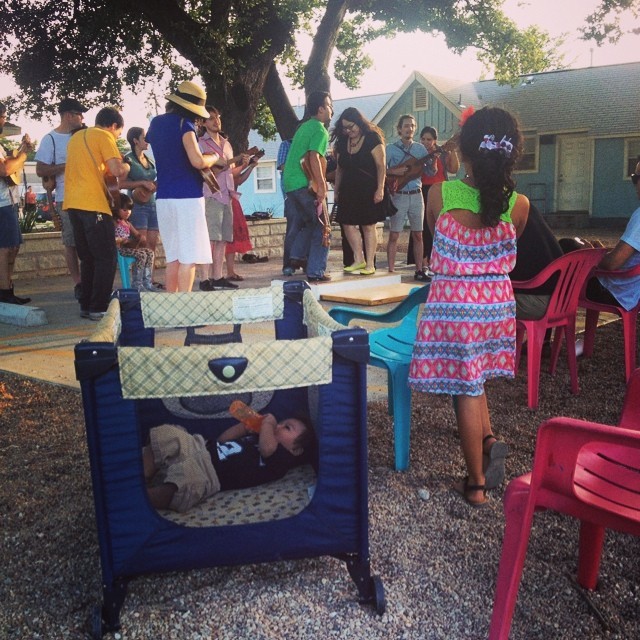 Thank you for taking time to read about our campaign. We hope that you will help us to continue changing the world through cultural arts activism! If you can spare any amount, please consider donating and sharing with your networks!